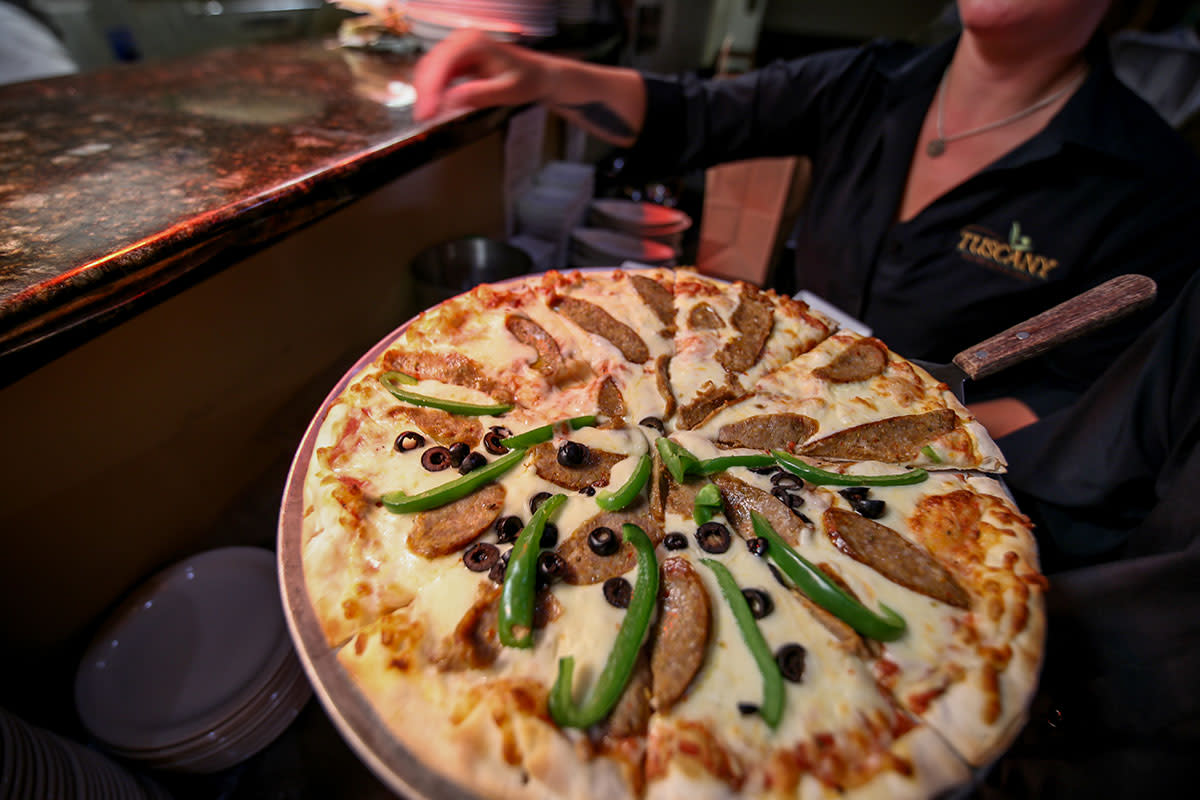 A Piece of Kenosha's Heart – A Guide to Local Pizza
It's no secret that Kenoshans love pizza. Cut into squares or pie shapes, thin crust, deep dish, veg or double meat – however you serve it, we love it. There's no bigger debate than "Innie or Outtie" in Kenosha, is there? We won't rank it, because everything is delicious. In fact, you'll easily find more than a dozen options to satisfy your pizza cravings in Kenosha. So let's talk Pizza!
Villa D'Carlo is Kenosha's oldest family-run pizzeria, made famous for its cornmeal-wrapped thin-crust pizza and homemade Italian sausages! These iconic pies have been baked in a stone-bottom pizza oven since 1957.
Kaiser's Pizza has been serving Kenosha since 2007. Their Pizza of the Month specialties always excite guests and experiment with fun flavors like bratwurst, pickles and corned beef. You'll find thin-crust, deep-dish, and two-tier pizza options on the site — so be prepared to make some decisions!
Valeo has amazing pizza options including their thin crust, hand tossed crust and even alternative options like cauliflower crust. Don't miss their stuffed pizzas, including the award-winning stuffed spinach pizza. They also offer DIY pizza kits!
The Tuscany Bistro serves delicious gourmet pizzas with a homemade tomato sauce as a base. You'll find fresh options from this standout here, including the Ortolana which features arugula and feta cheese, and the Margherita with fresh basil and fresh mozzarella! Ask about their gluten free pizza and cauliflower crust as well.
Casa Capri uses family recipes that have been passed down for four generations, making it Kenosha's second oldest pizzeria. Famous for their thin crust and perfect homemade sauce, you can compose your pizza as you wish!
The Boat House Pub & Eatery offers a build-your-own pizza menu with a perfectly sized 14-inch cheese base. You can choose between Marinara or Alfredo sauce and add your favorite toppings. Wednesdays also have a $10 pizza special, so be sure to check out the weekly creation!
Tenuta's Delicatessen & Liquors has a cooler full of takeout pizzas perfect for any occasion. This famous gourmet store also has everything you need to make your own pizzas at home: dough, fresh cheese, delicious sauce and authentic toppings!
Twisted Cuisine is home to the popular Brussels sprout pizza served on a cauliflower crust. Caramelized onions, crispy bacon, fresh mozzarella and a creamy garlic sauce make this a real treat as an appetizer or meal.
Kenosha Brewing Co. is the place for Calzones! That's right, Paielli's pizza dough, wrapped around mozzarella cheese, homemade marinara and a topping of your choice! They are huge and delicious.
Century Pub & Eatery offers basic pizzas for dinner and late night cravings. You will find all your favorites like cheese, sausage, pepperoni and supreme! Likewise, Brat Stop prepares a delicious pizza from their bar! And Mason's Pub & Eatery offers a handful of unique pizzas, including a Mac'n'Cheese Pizza and a Buffalo Chicken Pizza.
Other pizza options are plentiful. The flatbreads offered at the Waterfront Warehouse are out of this world and offer a variety of toppings that stray from the traditional pizza ingredients. Apis also offers flatbreads, including a breakfast option. Trolley Dogs serves Chicago's famous fried dough pockets filled with cheese, sauce and other pizza toppings, better known as Pizza Puffs. Try a Cheese Crisp at Down Town'R Saloon, which is a Southwestern take on a pizza, made with a huge tortilla covered in melty cheese and Jalapenos! We also recommend trying the build-your-own burger at the Garage or the buildable Mac-and-Cheese at Captain Mike's to include pizza-style toppings as a creation of your choice!
These are just a few of our favorites, you'll find plenty of options in our community. You could have pizza at every meal, multiple days of the week, and never leave Kenosha!