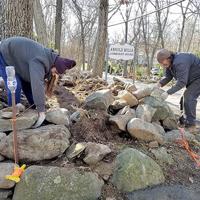 Historic Stone Wall Reconstructed at Arnolds Mills Community House | News
CUMBERLAND – An old stone wall that predates the old Quaker meeting house it stands in front of is undergoing a complete reconstruction this month, restoring the street view of the community house property from Arnolds Mills.
Lou's Stonework of Cumberland is completing reconstruction of the 120 foot wall along the causeway in front of the community house located at 75 Hillside Road.
John Faile of Community House said the hand-laid drywall predated the house's construction in 1809. He said it was probably there long before the property was sold in 1809 to the Quakers to build their meeting house.
The Metcalf family were one of the first settlers in this area in the mid-1600s.
The cost of this project, according to Faile, is $ 12,000, ordered because the community house remains closed to the public due to the pandemic. Although the programs were canceled for the foreseeable future, the nonprofit organized a blood drive in November.
During a visit to see the progress on December 3, Lou Lemoine, owner of Lou's Stonework, told The Breeze that he and his son Chris had been working on the wall for about a week, carefully arranging the stones to fit. 'fit like a kind of vertical puzzle. The job is to reuse all the existing stones, he said, without using any material to hold them together. The biggest challenge is getting around the substantial root systems that run under the wall.
The Arnolds Mills Community House is described as an integral part of the community life of the Arnold Mills Chapter of Cumberland. The original structure was used for religious services by the Friends of Providence for over 117 years.
In June 1926, the property was purchased by Charles S. Hilton as a summer residence. In 1940 Margaret Stearns, the great-granddaughter of Joseph Metcalf, one of the brothers who sold the land in 1809, purchased the historic structure. Margaret stressed the need for a community center in the suburban community of Arnold Mills. The building immediately became a meeting place for Girl Scouts, local clubs, and in 1941 the second floor became the start of the Cumberland Library.
In 1942, Stearns established a trust to ensure the availability and continuity of the property for community purposes and to ensure its continued and proper maintenance. The stated purpose of the trust was, and continues to be, to promote the moral, spiritual and educational life of the community. By 1960 the busy library service had moved beyond its second-story space, and Stearns funded and directed the design and construction of the library wing, which is now the Great Meeting Room.