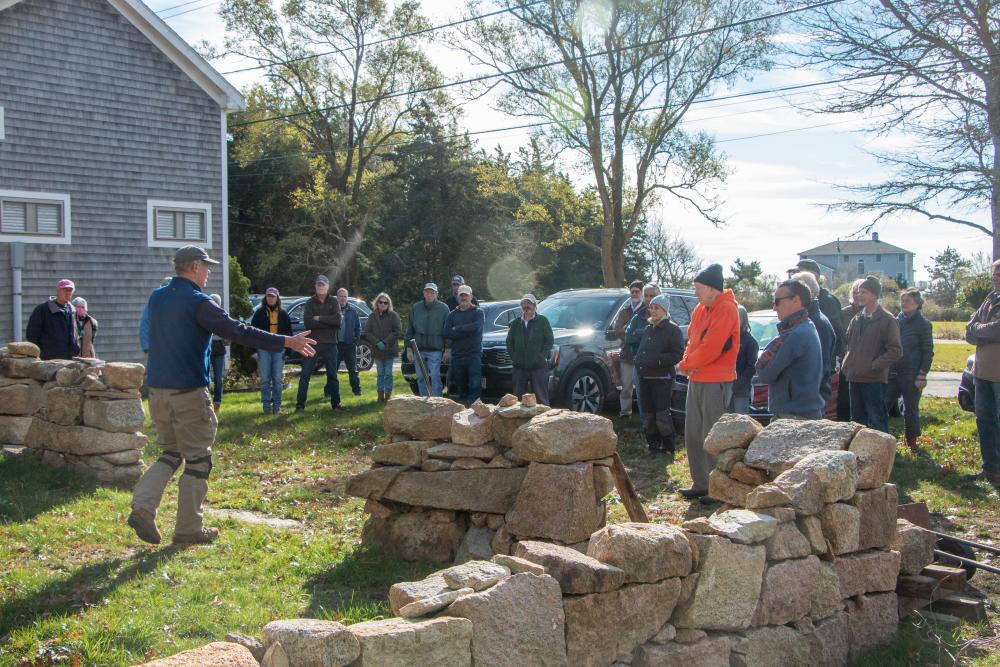 Mattapoisett Lands Trust teaches building stone walls
MATTAPOISETT – Stone walls for everyone!
The Mattapoisett Land Trust held a stone wall construction workshop on Sunday morning November 14th.
About twenty people came to attend the lesson and try their hand at assembling the stones to make a neat and stable structure.
Land Trust Clerk Peter Davies led the workshop, guiding participants through the process of selecting stones, placing them in place, and filling the spaces with smaller stones.
Davies said he had been building stone walls as a hobby for about 35 years, although he never did so professionally.
"To me, it feels like a kind of puzzle where there is no right solution," he said. "The more you do it, the more confidence you have in yourself when you see a stone that it will fit."
Davies said he enjoyed building the walls with his hands and a few simple tools, like a lever to move stones and wooden blocks to raise them.
"I was a serious climber when I was younger and I always thought there was a connection," he said.
When Davies finished explaining the process, the group of volunteers got down to work 'freeing' the stones embedded in the trailhead and arranged them into a low wall that will lead visitors from the parking lot to the Oliver entrance. Wendell Holmes, Jr. Preserve.
"Great Tom Sawyer-ing," said one participant lightly.
"We will do everything to recruit volunteers," replied another member of the Lands Trust.