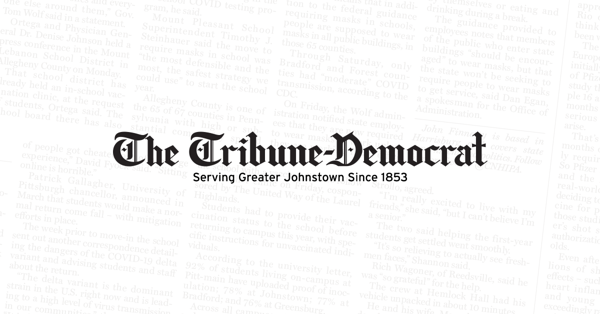 The painting began on a mural honoring Johnstown comic book legend Steve Ditko | Local News
JOHNSTOWN, Pa. — Matt Lamb had been a Spider-Man fan since childhood, but he never knew until his 30s that the iconic superhero's co-creator, Steve Ditko, was from Johnstown.
But soon – thanks to the work of Lamb, the local arts community and the Steve Ditko Estate – there will be a large downtown mural to educate today's children, as well as other residents and visitors, about the connection.
Plus, it'll be a cool and colorful piece of artwork featuring Spider-Man and Doctor Strange, another of Ditko's many characters.
"We think it's important to celebrate that someone like that, who had such a big impact on our society with the creation of Spider-Man, hails from Johnstown," Lamb said. "I think it's important for kids growing up in Johnstown to know that. Look at the great things that come from here. It's just something we should celebrate.
The painting process began Wednesday at Bottle Works in the Cambria City neighborhood of Johnstown, where Lamb serves as creative director.
Individuals and families joined in the activity, including Etta Conlon, 6, and Otto Conlon, 4, of Richland Township.
"Hopefully, when they can appreciate it a little more, in a few years, we can say, 'You remember, we helped put this together. We helped paint it," said their father, Mark Conlon. "They'll have that connection to something bigger than themselves and that connection to the community."
Over the next few weeks, members of the community will be able to join in the painting of 50 panels that will be combined to form a Marvel Comics-approved 49-foot by 28-foot mural that will hang outside Stone Bridge Brewing Co.
"It's our way of paying homage to him. … This mural is going to last a long time," said Michael Allison, public arts consultant. "A tribute to Johnstown, a tribute to Steve Ditko and some of the characters he has created."
Painting days are 4-7 p.m. Wednesdays through May 18, except March 30; 10 a.m. to 6 p.m. on March 25; and from 10 a.m. to 5 p.m. on April 8, 9 and 30, for all who wish to participate.
Local artists will then add the finishing touches.
Organizers hope the mural will be up in early June.
Dave Sutor is a reporter for The Tribune-Democrat. He can be reached at (814) 532-5056. Follow him on Twitter @Dave_Sutor.