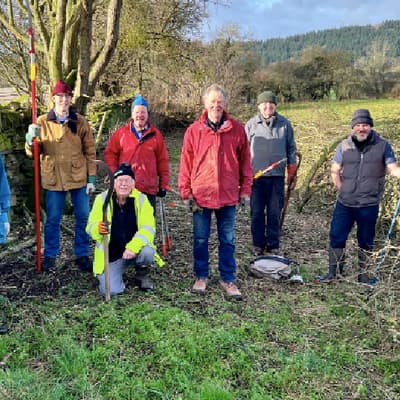 Group calls for help to save historic stone wall in Hay-on-Wye
Hay Community Woodland Group has launched a crowdfunding webpage to raise funds to help save the last remaining dry stone boundary wall in Hay-on-Wye.
The 130 meter long Hay Warren Wall is being restored as part of a collaborative project between Hay Community Woodland Group and Hay Warren Trust, using traditional skills.
Bordering the popular Warren Riverside Meadow by the River Wye, the wall is believed to have been built in the late 17th/early 18th century, making it historically significant to Hay as well as being an important community and wildlife resource .
The wall is in poor condition, overgrown and collapsed in places; part of the original wall can be kept but other parts require total reconstruction. Hay Community Woodland Group volunteers will dismantle the wall, if necessary, after removing any overgrowth of brambles, ferns and nettles.
Local stonemason, Dai Davies, a dry-stone wall specialist and enthusiast for the project, will use existing stone and traditional methods to repair the remaining half of the wall. Using craftsmanship, hundreds of years old, the wall will be rebuilt on readjusted footings and topped with "rooster and hen" capstones.
Ancient and traditional dry stone walls are good for supporting local wildlife including plants, lichens, small mammals, reptiles, nesting birds and insects. As the wall is rebuilt, a series of wildlife smoots (small tunnels) will be created at its base to allow wildlife to enter and exit The Warren.
The first phase of the project has already rebuilt 65m of wall with funding from the Welsh Government's 'Local Places for Nature' grant, as well as cash and in-kind donations from local businesses and individuals generous. This was facilitated by the Brecon Beacons National Park Local Nature Partnership and is one of five local nature recovery sites.
The second phase of the project will involve rebuilding the remaining 65m of wall, which is estimated to cost £15,000 in total.
Jeff Morgan, a senior member of the Hay Community Woodland Group, said: "The Warren is riverside grassland bordered by the River Wye, rich in flora and fauna, and enjoyed by many thousands of people each year. A donation will help secure this important asset for another 300+ years. »